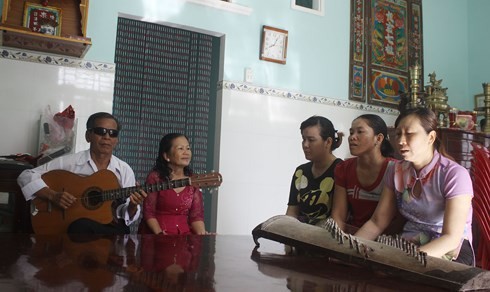 Artist Tran Ngoc Nuong and his students. (Photo: baolongan.vn)
Blind artist Nuong's small house in Can Duoc town rings with the joyful sound of musical instruments and the voices of students who are practicing hard under the teacher's instruction. There is often boisterous laughter by both teacher and students when somebody sings the wrong lyrics or plays the wrong rhythm.
Vo Minh Hieu of Can Duoc town who has been in the class for several months said: "I like Don ca tai tu music but I don't completely understand it. That's why I'm taking Nuong's class. I feel proud whenever I sing a Don ca tai tu song."
Don ca tai tu, also known as southern amateur music, evokes the people's life and work on the land and rivers of the Mekong Delta region. In 2013, it was inscribed on UNESCO's list of the Intangible Cultural Heritage of Humanity.
Many people take Nuong's class because of his expertise and dedication to the traditional form, which is evident in his way of teaching.
There are many blind students in Nuong's class. Those with talent and diligence make quick progress, because, with newcomers, especially the blind ones, Nuong is very patient, holding and placing their hands on their musical instrument gently urging them to sing again and again so that they will remember the songs by heart.
Nguyen Thi Thuy Trang, another Can Duoc resident, said: "Now I know six tunes from the north, 7 pieces from central Vietnam, and 3 pieces from the south. I have learned dozens of variations on the Tai Tu repertoire. Thanks to Nuong's careful guidance and my own hard work and passion, I believe I now understand the music even though this art form is rather difficult."
Nuong was born in a family of 15 brothers involved in forging. At the age of 4, his eyes could no longer detect light. He began to learn Braille at the age of 14 and then to play the piano. Because his family was poor, he had to give up the lessons. He decided to save enough money to study traditional music and make a career of it to escape his dependence on his family.
With a passion for traditional music and much hard practice, Nuong can now play a western guitar, adapted to Vietnamese music, but also the 2-string fiddle, and the moon-shaped lute.
When he meets other blind people, he wants to take them to his home and teach them music which can help them earn a living.
Nuong says he never shies away from doing everything he can to preserve traditional music, adding: "I just want to preserve traditional music. I don't charge a fee. Anyone who wants to learn Dan ca tai tu can contact me to attend my class."
Nuong's devotion to Don ca tai tu music and traditional musical instruments has inspired generations of learners. His life is a touching story of a talented person who overcame an unlucky fate and began sharing his accomplishment with others.
Nguồn: vovworld.vn